L&K Industries Philippines, Inc. is a wholly owned subsidiary of Lite-on Japan Ltd., engaged in the manufacture, trading and distribution of semi-conductor and electronic products.
The company was established in March of 1998, initially for lead frame back-end process, but later on diversified its operations to include other similar products and likewise engaged in trading business. The company is gearing for additional projects and intends to position itself as a competent and reliable sub-contractor and assembly company.
The company is characterized as young, dynamic and full of potential, reflective of its members who have manifested versatility and aggressiveness.
Growth Policy

Vision & Mission

Core Values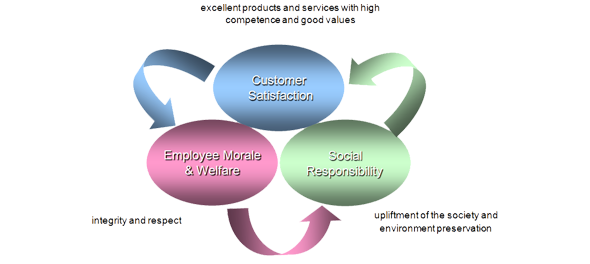 About Lite-On Japan
Founded in 1985, Lite-On Japan is a listed Jasdaq company in Japan, with Lite-On Technology as the major shareholder. Lite-On Japan mainly takes care of marketing and related trading of electronic components/products in the Asia area for Lite-On Technology's Japanese affiliate companies. Currently, Lite-On Japan focuses on four major fields, includes information and telecommunications, technological equipment, semiconductor related businesses, and OEM related businesses.

>>For more information, please visit Lite-On Japan website.